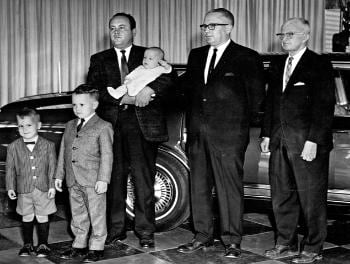 Daniel's Chevrolet began in a general store in Twin City in 1926. Mr. Marlow Daniels owned a general store and would bring Chevrolets from Swainsboro and offer them for sale to his customers in Twin City. Marlow and a man name Rice co-owned the venture at that time. Mr. Daniels later bought out Mr. Rice and became the sole owner of what would become Daniels Chevrolet. He established a Chevrolet dealership in Swainsboro in 1930. Mr. Daniels was joined in business by his son, Arthur Daniels, in the 1930s. In the early 1940s the Daniels added Oldsmobile to their line. They also sold Fiat automobiles during this time.
With the addition of Oldsmobile, the Daniels sold the first cars in Emanuel County with air conditioning and automatic transmissions. Arthur's son, Dickie, joined the dealership in 1959. Dickie's sons all joined the dealership as they entered the business world. Son Richard joined in the early 1980s; Ed joined in 1984; and Dickie's third son, Sam, joined his father and brothers in 1993. Today, Richard is general manager; Ed is sales manager; and Sam manages the service and parts department. Service and personal attention to each customer is standard operating procedure at Daniels Chevrolet.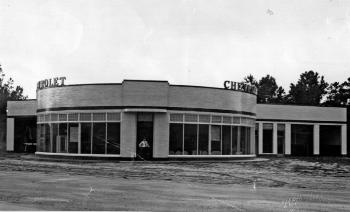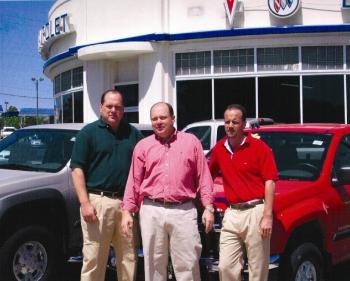 Most automobile dealers cover about a 45-mile radius from which they draw in business. Through providing top notch personal service for over 70 years, the Daniels dealership covers a radius of more than 230 miles. The Daniels family prides itself on providing these services to their customers whom they consider family. In 1991, Buick and Pontiac were added to the line of General Motors automobiles offered by the Daniels family. Another highlight in the history of the Daniels family business came in 1998 when they were awarded the highest award for a Chevrolet dealer.
"To be a genuine leader you must believe that your dealership does more than sell cars and trucks."
Genuine leaders instill trust in their customers and employees. Genuine leadership demonstrates dependability and quality in every customer transaction. Genuine leaders show they are more than willing to go the extra mile to make their customers' experience with their dealership and the vehicle they buy nothing short of exceptional!